Years ago when I still wore a single digit sized pair of pants, a man I admired expressed his desire to go to heaven.
"I don't understand."
My friend elaborated, "When I am experiencing God in worship or praise or prayer, I sense His presence. I think how much better heaven will be."
As I grow older, understanding dawns.
But there are still many mysteries. Like for instance Mark 10:29-30,
"Yes," Jesus replied, "and I assure you that everyone who has given up house or brothers or sisters or mother or father or children or property, for my sake and for the Good News, will receive now in return a hundred times as many houses, brothers, sisters, mothers, children, and property—along with persecution. And in the world to come that person will have eternal life.
I like the first part, but shy away from the "gift" of persecution.
Take a look at this verse.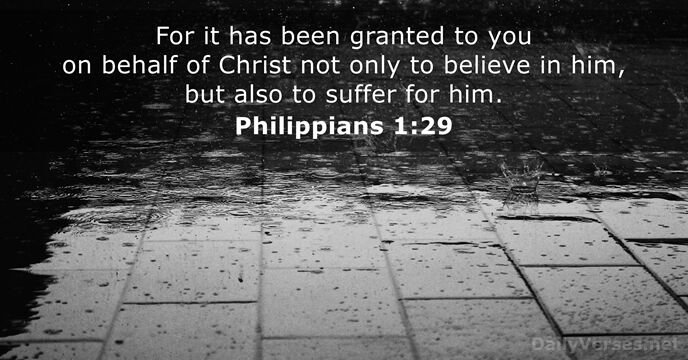 Suffering is granted to us? Like receiving a wish from a genie?
Recently, I received a newsletter from Voice of the Martyrs. The back page revealed about 12 people who are imprisoned because they taught a Bible Study, or shared the gospel, or even attended an underground church. Some have been in prison for over 15 years.
Here is the issue…when I read this publication, many of those who have been imprisoned say things like, "Christ suffered, I am privileged to suffer for Him." And when they are released, they go right back to preaching oftentimes to be thrown back into prison.
It is a mystery to me.
The only thing I can figure is when they are in prison, they experience what my friend described when he praised or prayed or worshiped. They somehow sense the Lord's presence so intensely that they glory in it. Basking themselves in Jesus.
As an American, it is almost impossible for me to relate. Yet Scripture says that suffering brings joy. If the Bible says it, I believe it, so that settles it.
But don't get me wrong, I am not praying for suffering. I think that would be weird. But I am praying for my brothers and sisters who are suffering. They are my eternal family and I love them, even though I haven't met them–yet.
For today, I pray, and read God's Word, and wonder.
Here is a nugget I read yesterday in Psalm 16:11, "In Your presence is fullness of joy; in Your right hand are pleasures forever."
Even so, Lord Jesus come.